Souvenirs de Pékin
I wanted to make a quilt to remind us of our two-and-a-half year expatratriation in Beijing, and fans and kimonos just seemed right for that. I began it on January 8, 2009 and am calling it
Souvenirs de Pékin
for obvious reasons. I designed it in Electric Quilt, and it will measure about 2m80 by 2m90.
J'ai voulu faire un quilt en souvenir de nos deux ans et demi d'expatriation à Pékin; les éventails et les kimonos me semblaient évoquer cette période.
D'où le nom du quilt que j'ai dessiné dans le logiciel Electric Quilt. Je l'ai commencé le 8 janvier 2009 et il mesurera 2m80 sur 2m90.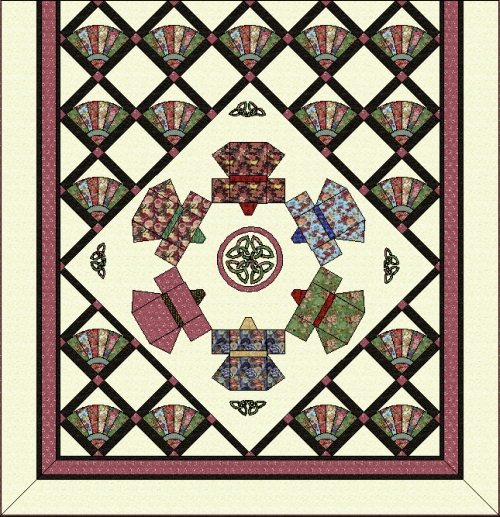 Below is the center medallion with the appliqué that I completed on Feb. 16, 2009. This is my first attempt at appliqué, and thanks to Ami Simms' method, I really enjoyed doing it.
Ci-dessous le centre du quilt, tout appliqué à la main et terminé le 16 février 2009. C'est la première fois que j'essaie de faire de l'appliqué, et je dois avouer que, grâce à la technique d'Ami Simms, cela m'a bien plu.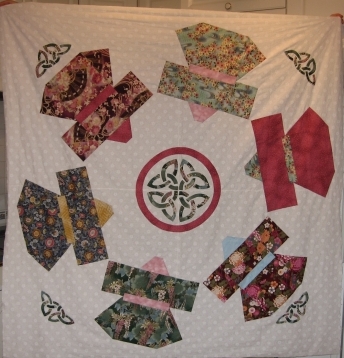 And here is the assembled upper-left-hand corner of the top, ready to be joined to the medallion and the other corners, when they're done.
Et voici le coin supérieur gauche assemblé.
"
Il n'y a plus qu'à" le joindre au centre et aux autres coins, dès que je les aurai terminés.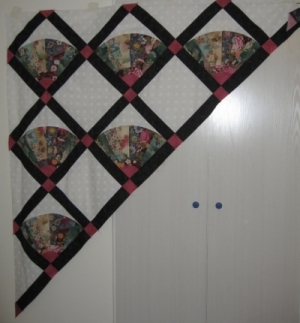 As of 8 March 2009, the middle of the top is complete; next on the agenda: the borders!
J'ai fini d'assembler le centre du quilt le 8 mars 2009; ensuite, j'entame les bordures!


The completed top, as of 23 March.
Le "top" tel que je l'ai terminé
le 23 mars.



Confetti Cake Quilt
On April 9, 2009, one of the members of our quilt group, Nathalie Delarge, gave us a day-long lesson in machine piecing, using the pattern for the Confetti Cake Quilt from
The Pattern Basket
.
Six of us bought layer cakes of fabric and learned to make this fun and addictive pattern. As I left on vacation the following day, I wasn't able to work on the blocks right away, but I did finish them on April 22. Here they are before I added the sashing on April 23; I still need to attach the borders though.
Le 9 avril 2009, l'une des membres de notre cercel de patch, Nathalie Delarge, nous a fait un stage pour apprendre à assembler à la machine les blocs du modèle Confetti Cake
,
de The Pattern Basket
.
Nous étions six à acheter donc un "layer cake" de tissus et à nous lancer dans ce modèle très ludique. Comme je suis partie en vacances le lendemain, je n'ai pas pu compléter les blocs immédiatement, mais je les ai terminés le 22 avril. Les voici, avant que j'aie ajouté les bandes intermédiaires le 23. Il me reste les bordures à coudre.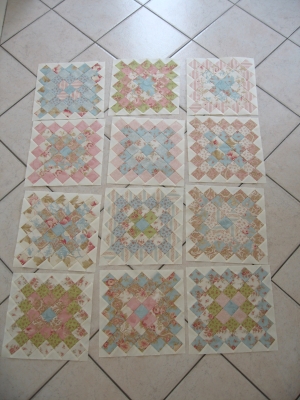 And here is the top, completed April 29! The soft colors don't show up as well as I'd like, but they may make for a good baby quilt.
Et voici le top que j'ai fini le 29 avril!

Les couleurs sont douces, ce qui en fera peut-être un quilt pour un bébé.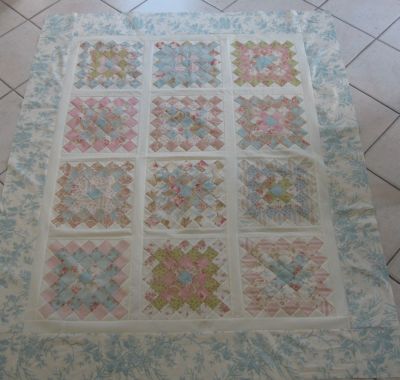 Home/Accueil